You ready to make some money? To begin with, let me introduce you to the product itself.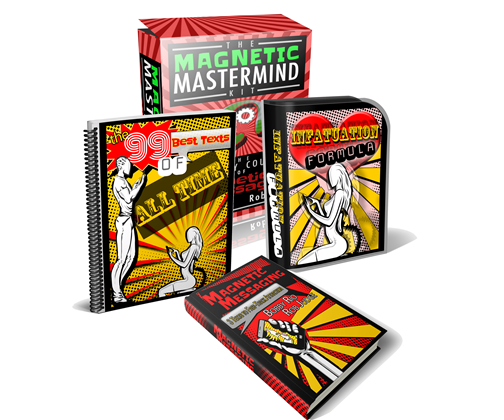 What's So Special About This Program?
Magnetic Messaging helps guys with the number one form of communication between men and women TEXTING.
And it gives them the tools they need to create fun, flirtatious, and sexual text conversations with women. If you have customers in the men's dating niche you probably already realize that this is the biggest need men look for.
Here's the BEST PART.
The problem solves an URGENT PROBLEM. When a guy has a woman he wants to text… he has a limited amount of time to send the text. Guys LOVE this program because it offers them an IMMEDIATE solution to their problem.
This program is NOT just for guys who can't attract a woman into their lives.
This program is for:
Single guys in the dating scene
Guys who want to keep the spark alive with their girlfriend
Even married guys scared their wife is slipping away.
Program Demographics:
We've heavily advertised this offer using the following demographics.
Men
Single, Unspecified, Divorced
Age 22 and up
United States, Australia, New Zealand, Ireland, Canada, United Kingdrom
Conversion and EPC
Depends on traffic source.
Affiliates mailing a warm email list generally see EPCs of $.90 to $3 depending on the responsiveness of their list. This number grows significantly over time as the rebills recur.
Affiliates using Facebook sending to a pre-sell landing page first usually see about .11 per click. Sending straight to the VSL if Facebook allows will usually double the EPC to around .25- .50. Remember, EPC grows as the rebills occur.
EPC and conversion rates on other traffic varies considerably on the source of the traffic.
The program consists of a few parts:
First you have the Magnetic Messaging ebook. This is where the students learn the skills needed to flirt and attract a woman over text message. They'll also learn "The Key Lock Sequence" which is Rob Judge's 'text sequence' for setting up a date over text.
Then the get The 99 Best Texts of All Time. Guys LOVE THIS. This provides guys with 99 texts that use immediately. And this is a HUGE selling point.
The Infatuation Formula Bonus. These videos teach a man how to go after and get that one woman he is really in love with. Since most guys have a specific girl in mind when purchasing a program, guys love this bonus because it gives them a blueprint for getting her.
Will This Product Convert To My List
This offer is designed to solve one of the most important problems in our market – the ability to communicate with women over text messages without killing the attraction. You can count on the fact that it's going to sell very well for you and make you a lot of money. On top of that, we're using three secret weapons to ensure the highest possible conversion.
Secret Weapon #1 – I am launching this using a proven evergreen launch model that has produced million dollar product launches in various niches. That means you won't have to compete with a bunch of other gurus who are all mailing at the same time, and that means more profits for you.
Secret Weapon #2 – The sales video. Point blank this thing CRUSHES.
Secret Weapon #3 – We've got one-click upsells in place as well as built in micro-continuity. That means you'll not only make a pile of cash up front, but you'll keep getting checks for many months to follow. Earn close to $200 per sale. PLUS you get paid on any other products they buy. We have an entire product catalog and you get paid on anything else they go on to buy.
Secret Weapon #4– Swipes, articles, banners, interviews, re-brandable reports, and webinars all available to help you make more moeny

How Much Can You Make?
Here are the facts: The front end product sells at a very affordable $47 and the commission is 75% per sale ($33.00) The low front end price gets A LOT of buyers through the door. They will be immediately be taken to three upsells ($97, $47, $27) And you get 50% on anything they take. But that's not all. The program also contains an optional micro-continuity six month weekly training membership program. And over half the people take it. You get 50% for every month they stay on ($18 per month) Altogether you can earn up to $197 per sale. PLUS you get paid 75% on ANY other product they buy from our catalog up to 60 days after they purchase.
When do You Get Paid?
I know you want to get paid as quickly and easily as possible, so I decided to use Clickbank to manage everything. You probably already have an account with them, but if not, you can go here and get one.
Everything is automated, and the stats are always up to date and accurate. You can also choose to get paid every week, two weeks, month, etc. It's really up to you. Clickbank gives you a lot of flexibility that way.
So that's it. You copy and paste the promotions into your mailer, hit send, and then sit back and let me handle the rest. Deal? Be sure to check your email right away so you can get the first promo ready to blast. All you need to do is insert your Clickbank ID and hit send.
Thanks for helping me get this program out to our guys, and I look forward to working with you on your projects in the future.